A tale of two stocks
Digital Transformation as Corporate Strategy - 1
Abstract: Digital Transformation when practised as one element of corporate strategy rather than as the entire corporate strategy is a dangerous and ineffective pursuit. Current digital transformation efforts in Banking are focused on competition within the industry (banks and neobanks), which is not where the competition is anymore as technology first businesses(shopify, square and stripe) start to eat away the most profitable revenue streams. Within industry thinking leads to me-too, 'safe' and incremental (vs transformation) initiatives which result in little value creation as reflected in stock prices of even the banks whose transformation efforts are rated as effective by the fintech media community.
To win, Banks must compete with Silicon Valley and not with each other. This is where Goldman Sachs and JP Morgan are headed and it's about time European Banks did too.
Provocation
I started on substack because my famous friend Simon Taylor indicated that I appeared more intelligent in the long form (blog) than I actually am and less intelligent in the short form (twitter) than I actually am. Well, that's not what he said but apparently my professorial long form is generally more useful to people who are interested in the fintech space. Anyhow, we will try to keep this particular long form conversation short.
Now twitter has a role and the role is to (a) serve as a news site (b) serve as a chatter-pub for people who sit in front of a screen all day (c) to provoke a conversation or two. This tweet started one of those conversations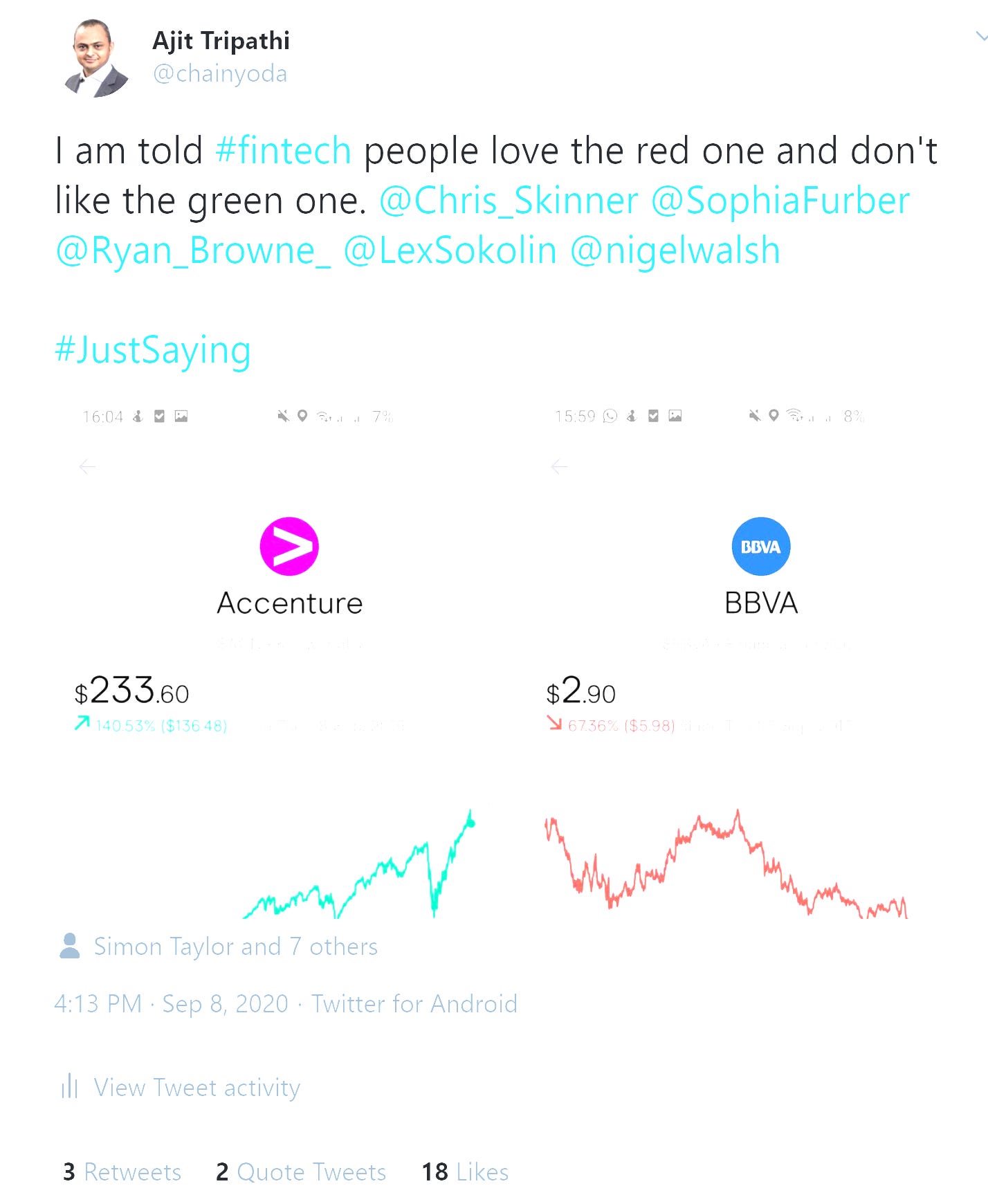 BBVA and DBS are two banks that are widely loved in the #fintech media community as examples of successful digital transformation whereas Accenture, another great firm in my book isn't necessarily so. By new, niche, digital consulting teams and vendors, Accenture is seen as part of the establishment that startups seek to disrupt. This raises the obvious question…
Who is actually benefiting from digital transformation spending in financial services and…

What is the metric of success when it comes to digital transformation
The Winners from Digital Transformation in Banking
It didn't take wags very long to point out that most likely BBVA have also hired Accenture to implement their multi year, multi hundred million digital transformation program. In that scenario, BBVA is the one spending and Accenture is the one getting paid. Scale this situation up at the industry level and the stock price movements explain themselves.
Now Accenture believes the Henri Ford era of digital transformation is coming… I read this statement as, "every bank can have their own digital transformation as long as they take it in the same shade of black". Well, given how much groupthink my industry engages in, this is probably already the case… everyone is already building "ai enabled mobile on cloud event driven architecture with microservices app banks with open apis whatever that means", running "data rationalisation programs", "innovation labs" and other such I will have what she's having strategies (Yes - 'When Harry met Sally' movie reference). Everyone is obviously also hiring the same firms they have always hired
Of course there are few original ideas in digital transformation right now. Especially with neobanks like Monzo going on the funding ventilator and the threat of disruption getting even weaker, Digital Transformation in 2020 is essentially might be becoming an industrywide IT upgrade for the mobile on cloud era, 10-15 years after Silicon Valley went to mobile on cloud. This not necessarily bad for the industry - we banks know how to execute things that are familiar, mature and predictable and by now all our familiar vendors have caught up as well.
So disruption from neobanks i.e. mobile on cloud banks is basically over. That story isn't a thing. Now disruption by big tech e.g. FAANG and tech first firms like Square, Shopify and Stripe - ooh that threat remains and has just gotten bigger, especially because we as the banking industry are now doing what every other BANK is doing but we have even less insight into what the likes of Square, Stripe or Shopify might be cooking next and what business they might chip away at next.
What's the metric of success in Digital Transformation?
To paraphrase the famous Bill Campbell, ex-CEO of Intuit and mentor of Eric Schmidt, Sundar Pichai and various other famous tech industry leaders..
"It's not the stock price, It is the ….ng stock price"
Now if you take a whole corporate strategy lens to digital, the first thing a legacy bank would do is look to reduce or get out of bad businesses and into good businesses to the extent the state and the regulator would allow. This part has nothing to do with technology. European banks, as utilities have to operate lots of bad businesses and the difficult business environment does nothing to support their valuation.
Low or negative interest rates.

Moribund debt market.

High credit losses

Poor cost to income ratios…
The second thing a bank would do is look to acquire or invest in a portfolio of high potential technology enabled businesses - especially when these businesses are on fire-sale thanks to Covid19 and start to shift the costs and revenue towards more efficient platforms. Still no technology involved.
The third things a bank would do is look at what's worked or not worked for digital transformation efforts in other industries and realise that the competition is no longer within the industry but with Silicon Valley. The regulatory moat is real but has it thinned enormously in five years, for sure - in payments and increasingly in lending too.
Digital Strategy is Corporate Strategy
Sometime back, I had written a longer piece arguing that digital transformation when seen as distinct discipline from corporate strategy (which includes M&A, Venturing, Business Selection, Portfolio Management and so on) is a dangerous pursuit. There is a reason why there are very very few examples of digital transformation leading to a winning business in ANY industry. That is the reason Walmart has never caught up with Amazon and Walmart's predecessors were never able to catch up with Walmart. It is also the reason Google and Microsoft vastly outperform Oracle and SAP today and Netflix is taking studios to the cleaners. You can't wrap an old business model on top of a discontinuous technology change and win. You might survive for a bit depending on existing barriers to entry but you definitely won't lead and you most probably won't thrive.
I also pointed out that Disney was able to execute Digital Transformation successfully because:
Bob led the digital transformation personally.

Bob made it a matter of survival because it was - "and not discretionary".

Bob led the board into letting him rewrite the legacy business model from supply chains to distribution into a technology first business model.

Bob sought expertise in the unfamiliar world of Silicon Valley (Steve Jobs and the likes), not in the familiar world (see the banking digital ecosystem above).

Transformation was led by the most important business (Animation) and not some optional sideshow (Bo?).

Bob acquired a successful tech first business model (Pixar) and empowered the guys (Ed Catmull and John Lasseter) who knew what they were doing (and Bob had the humility to know that he himself didn't) to rebuild the entire core business.

Digital was the entire corporate strategy, not one part of a much bigger strategy.

Digital was about competing with the tech industry ie Silicon Valley and surviving it, not doing the same thing as every other media and entertainment industry business.

Pixar team were allowed to run a digital business without being bogged down by legacy businesses and ways of working

Bob sought people like Steve Jobs to complement his own unfamiliarity with tech first business models.